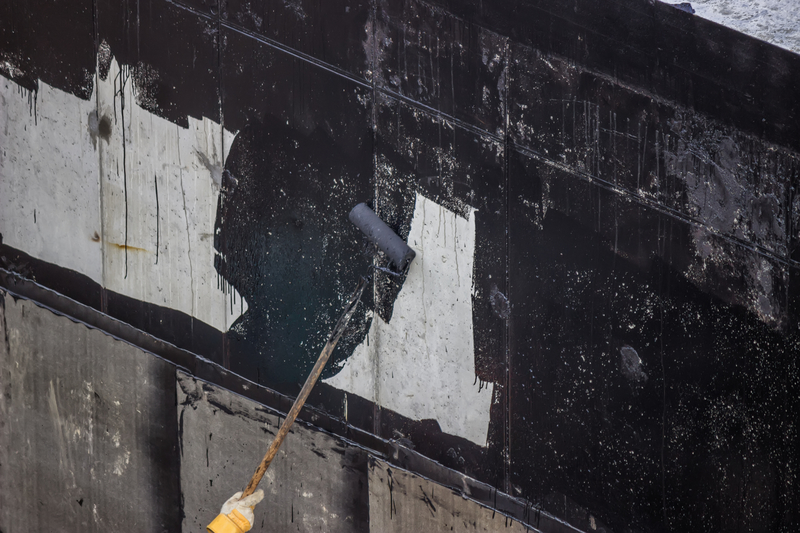 The exterior walls are naturally exposed to different climatic conditions like rainfall and direct sunlight. Once exterior walls crack, water and moisture find way into the internal wall of your building and affect the interior design. You begin seeing efflorescent coming out of the wet walls because the concrete wall is always damp. Also, molds start growing which could lead to destroying the interior paint of your house. It is important to hire Waterproofing Singapore contractors to install the concrete wall waterproofing membrane to curb these negative side effects of moisture accumulation. The following are the steps that we use at Waterproofing Singapore to install waterproofing membrane on concrete walls.
Examine the Concrete Wall
Our first step is to examine the concrete wall and find out the faults on the wall. Examining the wall first gives us a heads up on what products to use and what membrane is suitable for repairing the problem. Also, we get to know the root cause problem of the water problem so as to fix the problem permanently. Sometimes a wall crack may be a sign of more issues that are happening on the interior side and need to be properly catered for.
We check your Gutters
Clogged gutters can cause a moisture problem to your concrete walls because the water flows down your walls. Your wall will always appear to be wet and will lead to the formation of molds and cracks. Also, the gutter could have rotten wood that poses negative effects to your health. Therefore, it is important to clean out the gutter and keep checking its status at least three times a year.
Choosing the Right Membrane
There are numerous waterproofing materials that can be used to solve different problems of the concrete walls. We consider waterproofing paints, liquid membrane, bitumen coating, and cementitious waterproofing among others. Our contractors always chose the best membrane to install in your house which will provide a permanent solution.
During Membrane installation, we add Plastering Product
We recommend mixing plastering product for the exterior walls because they are highly exposed to rainwater and sunlight rays. The plaster is significant because it helps in making the coating more thicker hence preventing moisture content from seeping through the wall.
Wall Preparation
After deciding on what waterproofing membrane to use, we prepare the concrete wall by eliminating dust particles and drying out any moisture content. However, there are some coatings that can still be applied on a damp surface. Cleaning out the wall before installing a membrane will ensure that the waterproof substance will be able to cure well, sealing the entire area perfectly.
Apply the Membrane
We use the best equipment to apply the membrane and ensure that it is with the right thickness. It is important to completely seal a cracked wall to act as a barrier against water infiltration. Then the product is allowed to cure.
Follow up activities
This is an important step in our waterproofing service. We always come back to test the membrane and evaluate its effectiveness at no cost. It is our duty to ensure that our customers get satisfactory services that permanently solve the waterproofing problems. Waterproofing your concrete walls will prevent serious water problems and guarantee your home safety.
Benefits of Concrete Wall Waterproofing Membrane
It gives you peace of mind because you will have insulated your home from water infiltration into your interior walls.
It prevents the growth of mold and efflorescent that are dangerous to your health. Also, these two makes your wall appear old and not pleasing on your eyes. Waterproofing helps to keep your wall clean and new.
It increases the resale value of your property. When you want to sell your property, waterproofed walls and foundations become a good bargaining point. Most people do not prefer buying houses that have water issues.
It reduces the maintenance cost. Waterproofing provides long-term solutions to water issues, therefore you will spend less money on your house maintenance services.
Waterproofing will protect your concrete walls from corrosion and weathering. Also, the steel that was used in the construction will last longer because moisture will be kept away from them.
If you need the best concrete wall membrane waterproofing membrane services, contact us today.
HDB Registered Contractor
License Number: HB-09-5474D